Pickleball courts will be completed in the summer of 2020.
We hope to have open play for the public and members on Tuesday and Thursday evenings at 6:00
and possibly Saturday mornings. Members will have first priority to reserve their spot.
Due to the high demand, growing popularity, overwhelming response and "it's just fun" Del Cerro Tennis Club is adding four permanent lit permanent Pickleball courts.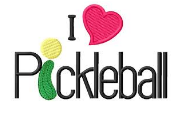 Due to only having four permanent courts memberships will be limited.
Members will be able to bring additional guests.
Tuesday: 6pm to 9pm Members FREE Non Members $8
Thursday: 6pm to 9pm Members FREE Non Members $8
Open Play Pickleball Scedule
Evening and Weekend Open Play Pickleball fees
Morning or afternoon Open Play Pickleball fees
Members FREE Non Members $5